Posted: Wednesday 31st May 2000 (01:30)
Route 1 Opening Ceremony
The Wimbledon to Elmers End route was opened in secret on 30th May 2000 by a small group of VIPs at Therapia Lane Staff Halt of all places. It is thought the opening was to have taken place at Merton Park but someone changed it!
A ribbon was cut and the VIPs travelled on 2548 to Wimbledon stopping at Phipps Bridge for photos. After the VIPs had returned to Croydon, all trams on the route started carrying passengers at 1200. The First departure from Wimbledon was packed with enthusiasts and passengers and left at 1200 with 2538.
This line which uses parts of the former Railtrack Elmers End - Addiscombe and West Croydon - Wimbledon lines opened just a day short of 3 years since the last passenger trains and the final Connex Last In Last Out Railtour ran over these lines on 31st May 1997.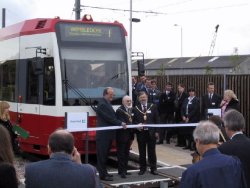 TCL Chairman Bob Dorey and Mayors
cut the Ribbon at Therapia Lane Staff Halt
© An Invited Guest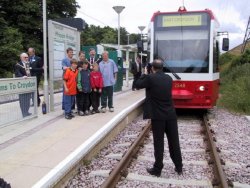 Photo Stop at Phipps Bridge with the VIP special
© An Invited Guest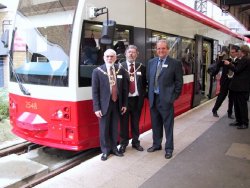 The Mayors pose with 2548 at Wimbledon
© An Invited Guest