Posted: Thursday 11th May 2000 (23:40)
Enthusiasts Meeting
After quite a poor turn out for the 0429 - I was pleasantly suprised that there was a very good turnout for our meeting at The Tramspotters (formally Cricketers!). It was great to meet members of the Egroup and to discus trams in the sun with trams passing.
The Event will have to be repeated.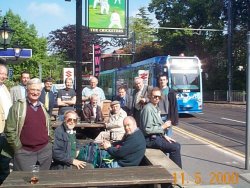 2546 passes some of the Group outside
'The Cricketers', Addiscombe Road.
Thanks to the guy who took the pic for us!
© Unknown