Posted: Tuesday 23rd May 2000 (23:30)
Beckenham Line Opening Ceremony
Beckenham was opened at a short Ceremony at Beckenham Junction at 1045 on Tuesday 23rd May 2000. The leader of Bromley Council cut the ribbon after making a short speech in which he wished the line success and also said that a feasibility study was underway into extending to Crystal Palace. After the ribbon was cut, tram 2548 took invited guests to Croydon and back. The same tram then formed the first public service, the 1202 from Beckenham Junction. This was another party atmosphere with half the tram full of enthusiasts, many related to this site in some way.
Unfortunately, it was not possible to offer free rides in the same way as the Addington Route.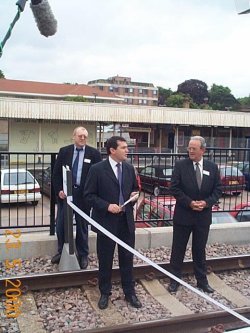 Leader of Bromley Council makes his speech
© S.J.Parascandolo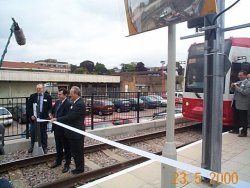 Cutting the Ribbon
© S.J.Parascandolo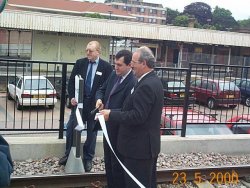 Beckenham is Open!
© S.J.Parascandolo