Posted: Wednesday 10th May 2000 (22:40)
The Opening Ceremony
The guests arrived at New Addington aboard two buses from Croydon. After speaches and the Ribbon Cutting about 1100, the two trams 2543 and 2550 both with reefs on the front left for Croydon.
It was a busy event with many people, enthusiasts, press and residents.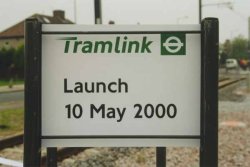 The sign says it all!
© John Bradshaw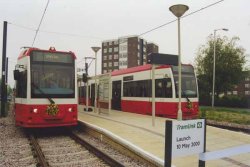 2543 and 2530 - Awaiting the Launch
© John Bradshaw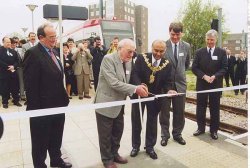 Mayor of Croydon, Dr Shafi Khan and former LT Tram driver, Fred Roberts cut the Ribbon.
© John Bradshaw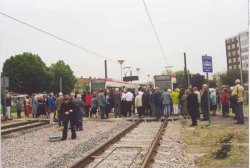 Crowds gather for the Opening Ceremony
© John Bradshaw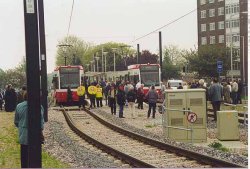 Crowds gather at New Addington
© John Bradshaw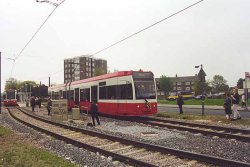 2543 forms the First VIP tram from New Addington
© John Bradshaw