Posted: Thursday 11th May 2000 (23:40)
The 0429 - First Fare Paying Tram
Some of us got up early to do the first Fare Paying run at 0429 on Thursday 11th May from West Croydon. 2540 arrived on time and we were surprised to find as many Revenue Inspectors as Passengers eager to check our tickets!
The tram arrived at New Addington at 0452 to form the 0455 to West Croydon. This was rather tiring especially for me as I updated the site at 2300 on Wednesday, had 4 hours sleep and am still updating now (2330 Thursday)!
5 minutes to go!
© S.J.Parascandolo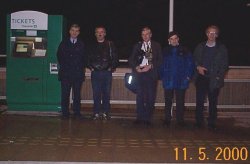 Those that got out of bed for it!
© S.J.Parascandolo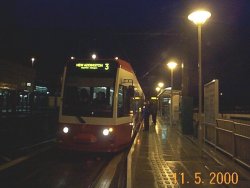 2540 with the First Fare Paying
Croydon Tram at West Croydon
© S.J.Parascandolo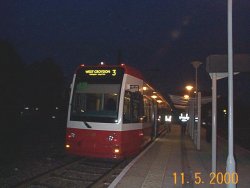 The First Fare Paying departure
from New Addington - 0455
© S.J.Parascandolo